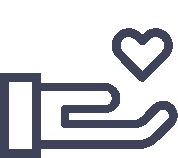 ​
Bring all the tithes into the storehouse so there will be enough food in my Temple. If you do," says the Lord of Heaven's Armies, "I will open the windows of heaven for you. I will pour out a blessing so great you won't have enough room to take it in! Try it! Put me to the test! Your crops will be abundant, for I will guard them from insects and disease. Your grapes will not fall from the vine before they are ripe," says the Lord of Heaven's Armies.
Our Ushers would be happy to provide you with an envelope for your cash or cheque donation. Cheques can be made payable to Destiny Christian Centre. Select the envelope to request your pre-addressed envelopes for regular giving.
Select the cell phone image to download The Tithe.ly iOS & Android mobile giving app that enables you to give securely from anywhere, at any time, with 1-tap. Plus, it's completely FREE!
​
Select the computer image below to give securely online through Tithe.ly
​
​